Defunct
LASCO C1
Large Angle Spectrometric Coronagraph
(or
LASCO
) is able to take images of the solar corona by blocking the light coming directly from the Sun with an occulter disk, creating an artificial eclipse within the instrument itself. The position of the solar disk is indicated in the images by the white circle. The shadow crossing from the lower left (or the upper right) corner to the center of the image is the support for the occulter disk.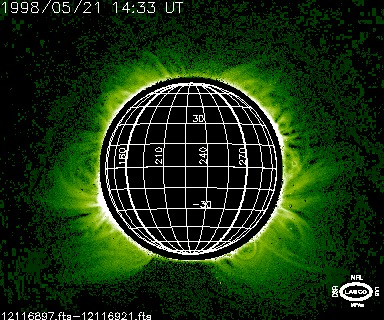 The
C1
coronagraph is now defunct and its latest raw image is available
HERE
.
More information about LASCO-C1 can be found
HERE
.
Courtesy of ESA/NASA/NRL (SOHO/LASCO)