Latest images from the Solar Dynamics Observatory (SDO – AIA/EVE/HMI)
AIA images

—
SAM soft X-ray (failed)
ANNOUNCE from LASP: We're sad to report that EVE MEGS-A / SAM data stream has ended on Monday May 26, 2014 due to a power anomaly for MEGS-A CCD electronics. With the SAM images being from MEGS-A CCD, both SAM solar X-ray images and MEGS-A spectra (6-37 nm) are not available now.
Flare map generated from imagery from AIA/SXI (SDO/GOES)
NOTE: this processed image acted as a replacement for the SAM X-ray data which is unavailable due to a technical failure. As the new GOES satellites no longer have an X-Ray imager (SXI), this image will not be updated.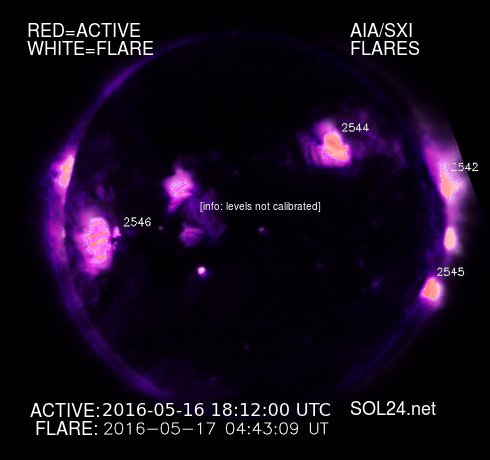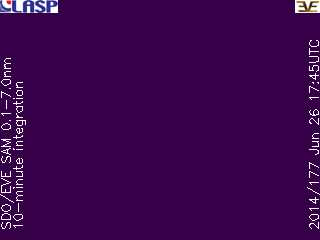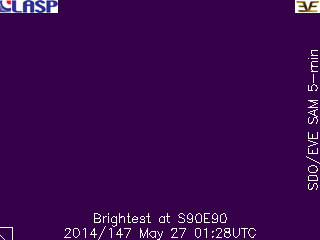 —
HMI images
The Helioseismic and Magnetic Imager (or HMI) studies the oscillations and the magnetic field at the solar surface. It observes the full solar disk at 6173 A with a resolution of 1 arcsecond. HMI is a successor to the Michelson Doppler Imager on the Solar and Heliospheric Observatory (SOHO).
The Michelson Doppler Imager or (MDI) images are taken in the continuum near the Ni I 6768 Angstrom line. The most prominent features in them are the sunspots. This is very much how the Sun looks like in the visible range of the spectrum.
—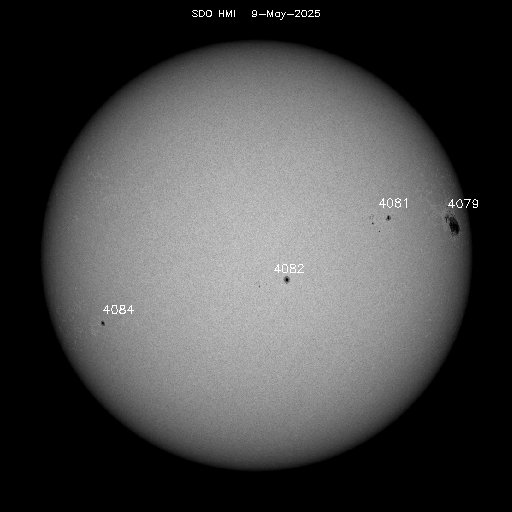 Courtesy of NASA/GSFC/JSOC/LASP/SDAC/SIDC/LMSAL (SDO).